There's no right or wrong way to celebrate Valentine's Day. Maybe you're all in on the lovey dovey stuff, or perhaps you prefer something more friend-focused. And — of course — there's the option of foregoing it entirely, if that's more your speed.
Wherever you find yourself on the Valentine's Day celebration spectrum, the holiday certainly inspires some interesting search trends every year. Here's how different Valentine's Day-related queries have been performing in the U.S. in the lead-up to the big day.
Searches for "date night ideas" reached a record high this year. But the most searched date activities differ a bit across the U.S. Who knew escape rooms were so romantic? (Or rage rooms, for that matter — you OK, Idaho?)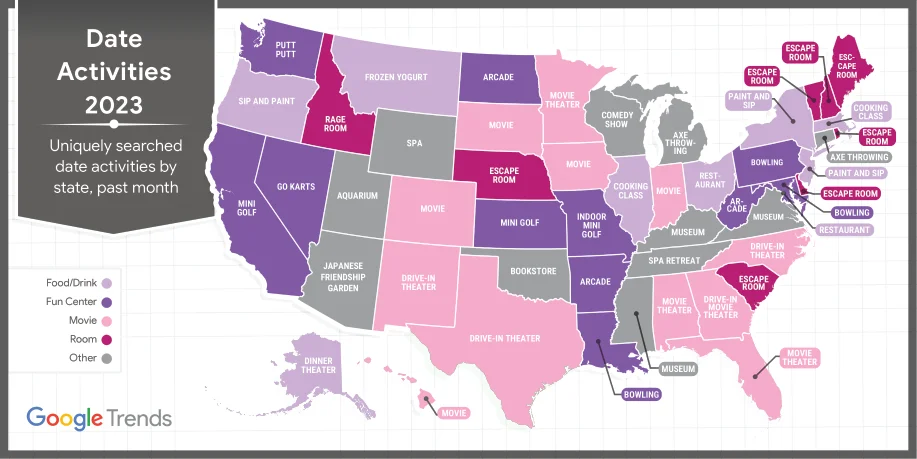 Date activity search trends vary across the entire country.
2. If you've ever liked someone but not been sure if they liked you liked you, you're not alone. "Does my crush like me?" and "how to get my crush to like me?" are two of the top questions about crushes.
3. When it comes to bouquet searches, "flower bouquet" reigns supreme. But the next top searched spot goes to the surprising query, "beef jerky bouquet."
4. Plenty of people take to Search for Valentine's Day getaway planning, with five pretty different cities racking up the most interest.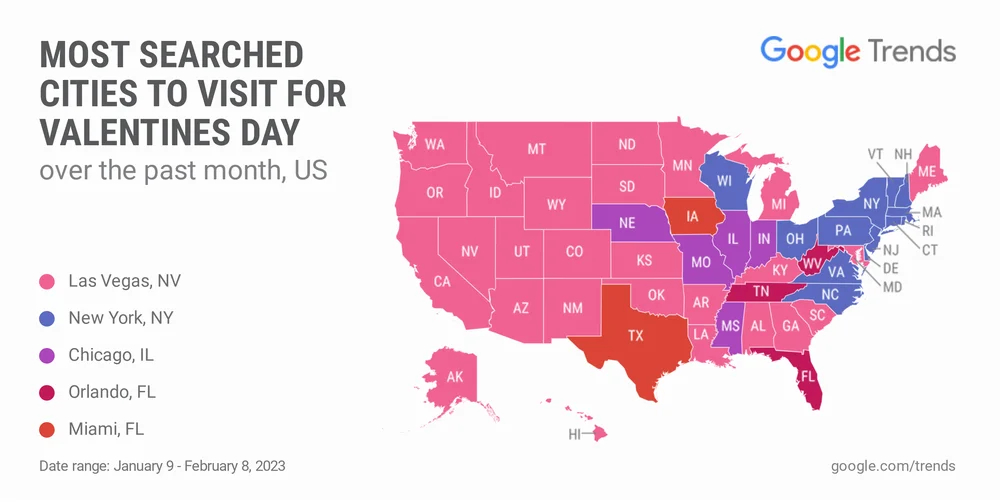 The most-searched cities for Valentine's Day vacations.
5. The lead-up to Valentine's Day isn't all warm fuzzies, though. "When to break up" gets three times more searches than "when to propose."
6. And not all Valentine's Day-related searches are focused on romantic relationships: "What to bring to a Galentine's party" and "Galentine's Instagram captions" both more than doubled in early February.
7. Speaking of Galentine's: Since the 2010 episode of "Parks and Recreation" introduced the idea of a pre-Valentine's Day celebration devoted to female friendships, searches for the phrase have consistently appeared every February, peaking in February 2019.
8. Breakout Galentine's Day-related searches include "Galentine's Day ideas," "Galentine's Day gifts" and "when is Galentine's Day?" (according to the episode, it's February 13).
9. Some would say there's no better recipient of Valentine's Day pampering than yourself. If you need some inspiration, "red French tip nails" and "pink French tip nails" are the most-searched Valentine's nail designs.
10. Maybe the way to the heart really is through the stomach. "Heart-shaped pizza," "heart-shaped cake" and "heart-shaped pasta" are the most searched foods modeled after this symbol of love. "Heart-shaped pizza" even spikes every February in the U.S.
11. Not to be outdone, "heart-shaped taco platter near me" queries rose more than 300% in early February.