Arkansas Republican Gov. Sarah Huckabee Sanders will prohibit the use of the term "Latinx" in government documents through an executive order.
Sanders, who was sworn in as the first female governor of Arkansas on Tuesday, justified the ban of the word "Latinx" in government documents and name titles by citing a Pew Research poll that found only three percent of American Latinos and Hispanics used the term to describe themselves.
"Ethnically insensitive and pejorative language has no place in official government documents or government employee titles," Sanders' executive order states. "The government has a responsibility to respect its citizens and use ethnically appropriate language, particularly when referring to ethnic minorities."
SARAH HUCKABEE SANDERS TO BRING 'GENERATIONAL IMPACT' WITH 'BOLD' AGENDA AS FIRST FEMALE GOVERNOR OF ARKANSAS
Sarah Huckabee Sanders will make history Tuesday when she is sworn in as the first female governor of Arkansas, and the youngest governor in the nation, with plans to bring an "aggressive, bold and conservative" agenda that will have a "generational impact" on the state.
Sanders, 40, easily defeated Democratic opponent Chris Jones in November. She succeeds Republican Gov. Asa Hutchinson, who was term-limited and could not run again. He endorsed her bid.
Sanders follows in the footsteps of her father, former Arkansas Gov. Mike Huckabee, who led the state from 1996 to 2007.
"It is a pretty humbling thing," Sanders told Fox News Digital during an exclusive interview ahead of her inauguration. "As far as we know, we'll be the first-ever father-daughter pair anywhere in the country, and so, you know, that is a pretty historic and amazing thing."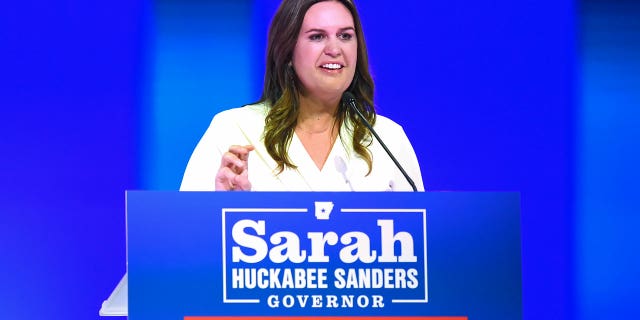 Arkansas Gov.-elect Sarah Huckabee Sanders delivers a speech to her supporters on election night in Little Rock, Arkansas, on Nov. 8, 2022. (AP Photo/Will Newton, File)
Sanders, who worked as a White House press secretary for former President Donald Trump and on a number of political campaigns throughout her career, said she "always thought" she would work "more behind the scenes" in politics.
"And here I am, anything but after the last few years," Sanders said.
Trump encouraged Sanders to run for governor when she left the White House in 2019.
"It certainly was not the path I envisioned, but it is one I'm extremely excited and enthusiastic about taking on," Sanders said.
Sanders said she is "a little biased" but that her father is "certainly the best governor we've ever had here in Arkansas and one of the best governors we've ever had in the country."
"He's set the bar high, and I have very big shoes to fill," Sanders said, adding that there is "nobody more hopeful and more helpful in helping me achieve my goals."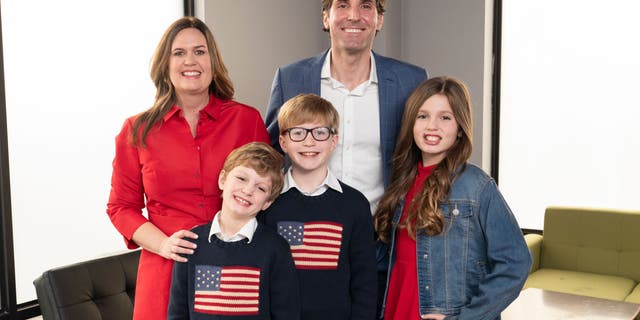 Sarah Huckabee Sanders will be sworn in as the first female governor of Arkansas on Tuesday. (Sarah Huckabee Sanders)
Education reform is at the top of Sanders' list after being sworn in.
"I've made no secret that the biggest priority I have for this session is a large-scale education reform package," Sanders said. "I am really excited to work with our legislative partners to bring about education reform that, I think, will have a generational impact on our state."
As a mother of three elementary-aged children, a daughter and two sons, Sanders has an inside look at classrooms and curriculum across the state.
"I am living it every day with a fifth-grader, a third-grader and a first-grader, and I feel the impact of education and what it means and what it means to each kid," Sanders said, noting they "all learn differently and all need different things."

ARKANSAS GOV.-ELECT SARAH SANDERS TAPS FLORIDA OFFICIAL TO BE STATE'S NEXT EDUCATION SECRETARY
"Making sure that we are providing the best pathway and best opportunities to every student in the state is going to be a big priority and going to be very important as we move forward in this session."
Sanders said Arkansas has "sent a pretty strong and clear message of what they are hoping for."
"There is a real hunger, not just from the public, but I think also from the legislature here, where we have Republican super-majorities in the House and the Senate, to do some pretty big things and enact some conservative reform," Sanders said.
Sanders tapped Jacob Oliva, a senior chancellor at the Florida Department of Education, to serve as Arkansas secretary of education.
"My hope is that states look to Arkansas as a model and as a national leader on how to do it right," she said.
ARKANSAS GOV.-ELECT SANDERS APPOINTS VETERAN LAW ENFORCEMENT OFFICERS TO TOP PUBLIC SAFETY POSTS
Other top priorities for Sanders' administration, she said, is an emphasis on public safety.
"Making sure that our law enforcement officers have the training and the resources and the tools that they need to do their job well, and being supportive of their efforts, and putting some truth into sentencing here in the state of Arkansas," Sanders said, adding that she will also focus on "making sure that violent repeat offenders aren't let out into our community so that they can continue to commit crime."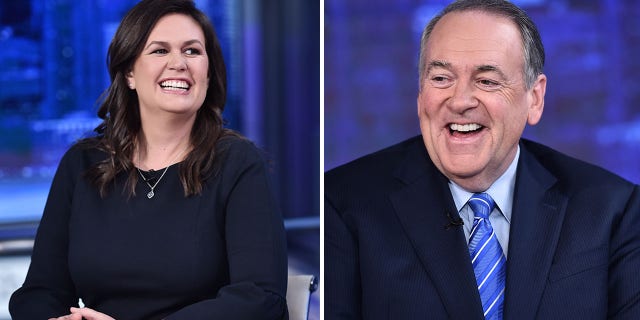 The Huckabee family is celebrating as Sarah Huckabee Sanders was elected the first female governor of Arkansas. (Getty Images/ Steven Ferdman)
Sanders already named 26-year veteran of the Arkansas State Police, Capt. Mike Hagar, to serve as her pick to lead the law enforcement agency and the Department of Public Safety. Sanders said she'll also appoint Hagar to serve at the same time as director of the Division of State Police.
Sanders also said that A.J. Gary, who is currently serving as public safety secretary, has agreed to stay on as director of the state Department of Emergency Management in her administration. Hutchinson had named Gary public safety secretary in August.
Gary is a retired police chief who served more than 28 years with the Conway Police Department.
Meanwhile, Sanders also said that she plans to work to phase out Arkansas' state income tax.
"It is not going to happen overnight, but we want to keep chipping away at it," she said, adding that she also will focus on growing Arkansas' tourism industry."
As for federal policies impacting the people of Arkansas, Sanders said that "a lot of the failures of the Biden administration are falling onto the backs of governors."
"It is one of the reasons I ran for governor, because I think that a place where you can actually implement change and do things to help the people of your state is at that more local level," she said.
"Washington has, frankly, become so polarized that it is paralyzed," she continued. "Very little positive, if anything, comes out of Washington these days, and so, I am really focused on what we can do to empower our citizens, protect individual freedoms and create better opportunity for every Arkansan."
She added, "Some of that is pushing back on the out-of-control federal government, but a lot of it is focusing on policies that empower our citizens here at home."