NATO Secretary-General Jens Stoltenberg has visited Kyiv for the first time since Russia's invasion last year, telling Ukrainians their country's future belongs in the alliance as President Volodymyr Zelenskiy proclaimed that "it is time" an invitation was extended to join the group.
Stoltenberg arrived in the Ukrainian capital early on April 20 on an unannounced visit as fighting raged in the east and Moscow continued to launch attacks with dozens of drones on civilian infrastructure in several regions.
Stoltenberg reaffirmed the alliance's position that Ukraine's future lies in NATO, but stopped short of offering a clear timeline while reiterating that the 31-member bloc will continue to offer support to Ukraine in its fight against the 14-month Russian aggression for as long as necessary.
"Let me be clear: Ukraine's rightful place is in the euro-Atlantic family. Ukraine's rightful place is in NATO. And over time, our support will help you to make this possible," Stoltenberg said.
"NATO stands with you today, tomorrow and for as long as it takes," Stoltenberg said, adding that the alliance had trained tens of thousands of Ukrainian soldiers and given 65 billion euros ($71.31 billion) in military aid alone.
Moscow has given several reasons for launching what it calls a "special military operation" against Ukraine, including saying several times that it needed to prevent Ukraine's accession to NATO, which would pose an existential threat to Russia.
Stoltenberg also invited Zelenskiy to attend a NATO summit scheduled for July in Lithuania's capital, Vilnius.
"There isn't a single objective barrier to the political decision to invite Ukraine into the alliance," Zelenskiy told a news conference with Stoltenberg in Kyiv, adding, "it is the time for the corresponding decisions."
Speaking a day before a meeting of the Ukraine Defense Contact Group at the Ramstein Air Base in Germany, Zelenskiy also appealed to the alliance chief to help overcome the hesitancy of some members to provide long-range weapons to Ukraine to help it repel Russian forces.
"I addressed the secretary-general with a request to help us overcome the reluctance of our partners regarding the delivery of certain weapons, namely long-range weapons, modern aviation, artillery, armored vehicles," Zelenskiy said.

Earlier during his visit, Stoltenberg paid his respects at a memorial for fallen soldiers in downtown Kyiv and talked to Ukrainian officials, images published by Ukrainian media outlets showed.
Stoltenberg's visit came hours after Russia used Iranian-made drones for a second day in a row to attack civilian and infrastructure targets, the Ukrainian military said on April 20.
The southeastern Dnipropetrovsk region was targeted by six drones, Serhiy Lysak, the head of the regional military administration, said on Telegram.
"This night, troops from the Eastern Air Command and antiaircraft defense forces downed six attack drones, most likely, [Iranian-made] Shaheds," Lysak wrote on Telegram.
There were no immediate reports of casualties.

Separately, the Ukrainian Air Force Command reported that its air defenses had shot down about 10 Iranian-made Russian drones in southeastern Ukraine.

The drone attack was the second in as many days, after swarms of Shaheds were reportedly shot down the previous day by the Ukrainian air defense above the southern port city of Odesa.
Russian surface-to-air missilesn hit civilian targets in Ochkiv, a small town in the southern Mykolayiv region, the head of the regional military administration, Vitaliy Kim, said on April 20, adding that there were no immediate reports of casualties.
In Donetsk, one civilian was killed as a result of Russian shelling, the region's military governor, Pavlo Kyrilenko said on April 20.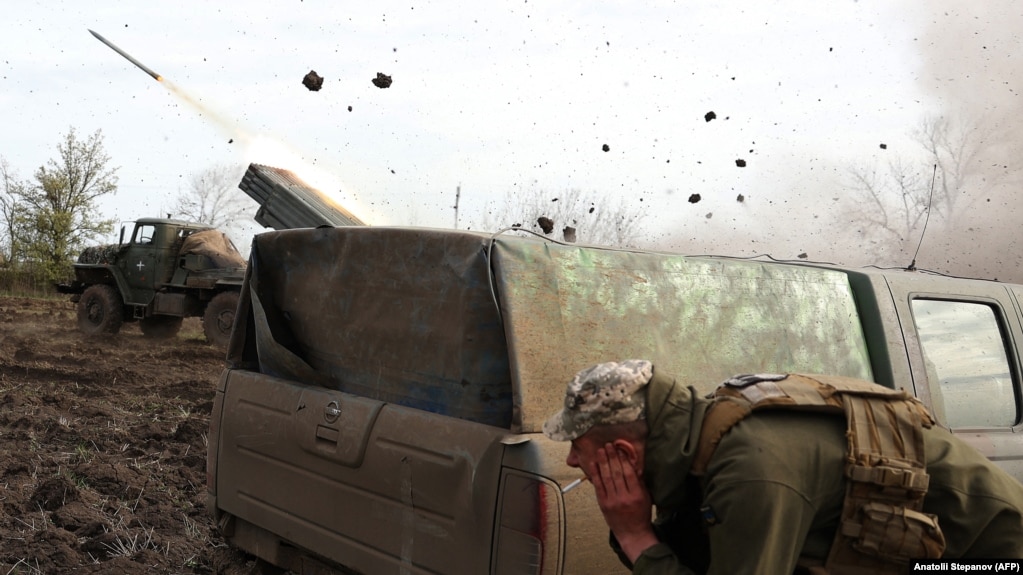 In the east, Moscow's troops continued to press an offensive in Donetsk region with renewed momentum to try and break a monthslong stalemate in the battle for the city of Bakhmut.
Ukrainian defenders meanwhile repelled more than 55 Russian assaults in Bakhmut, Avdiyivka, and Maryinka — the theater of operations where the fiercest battles for the Donetsk region have been under way for months.
The General Staff of the Armed Forces of Ukraine said in its daily update that Russian troops have been unsuccessfully trying to improve their tactical positions using a combination of shelling and air strikes.
The battlefield reports could not be independently verified.