WASHINGTON — More than 13 months after the United States and its allies blocked Russia from accessing an estimated $300 billion in central bank assets to punish the Kremlin for its unprovoked invasion of Ukraine, Washington and Brussels are still struggling with the questions of whether and how to use the enormous pile of frozen funds to help Kyiv.
A satisfactory legal solution is becoming more urgent by the day as Moscow pushes ahead with its war on Ukraine and questions grow about the staying power of public support in the West for large-scale aid for the embattled country.
The United States and its European allies have allocated nearly $200 billion in military, financial, and humanitarian aid to Ukraine since Russian forces poured over its border on February 24, 2022.
But with no clear end to the war in sight and Western economies under pressure from high inflation, adopting new large-scale aid packages could prove more difficult, making frozen Russian reserves an enticing source of cash.

"If you ask yourself which is the politically easier course – seizing our adversaries' assets that we have already frozen or appropriating taxpayer dollars to support economic reconstruction in Ukraine – overwhelmingly, the easier course is relying on the Russian assets," Larry Summers, a U.S. Treasury Secretary under President Bill Clinton, told a conference organized by the Atlantic Council think tank in February.

U.S. lawmakers have submitted various bills that propose to make that possible, circumventing current restrictions that prevent the president or courts from seizing the central bank reserves of a foreign country — even a sworn enemy — parked in the United States. However, there is strong resistance from the White House over the potential legal and financial implications.

Meanwhile, the European Union is looking at the possibility of investing the Russian reserves its member-states have frozen in sovereign bonds and other low-risk assets and using the profits to help Ukraine as a way around the constraints imposed by domestic and international law.

Ukraine and some of its most vocal supporters in the West say seizing Russian central bank assets and making them available to Kyiv is morally right. They say Ukraine is defending the West and global democracy, not just itself, and argue it's unfair that Kyiv should have to borrow money to do so.

U.S. Senator James Risch of Idaho, the leading Republican on the influential Senate Foreign Relations Committee, is working on a new bill that would give President Joe Biden the authority to seize and use the Russian assets for nonmilitary aid to Ukraine. A similar bill that Risch co-sponsored last year with Senator Sheldon Whitehouse of Rhode Island, a Democrat, never came to the floor for a vote. Nor have similar bills introduced by other lawmakers.

"I'm trying to get [the Russian central bank reserves] unfrozen to where we can give it to the Ukrainians to start rebuilding, that really needs to be done," Risch told a conference at the Hudson Institute think tank on March 29.

Separately, in a statement to RFE/RL, he also said it was "a commonsense way to offset the costs of the war."

Billions And Billions

Ukraine will need $411 billion in public and private investment over the next 10 years to rebuild its devastated economy, including $14 billion this year amid the war for critical reconstruction needs, according to a joint assessment by the World Bank, the UN, the European Commission, and government of Ukraine that was released in March.

Chimene Keitner, a professor of international law at the University of California College of the Law, San Francisco, told RFE/RL that "justice and law dictate" that Russia should pay for rebuilding but cautioned against hasty legal solutions that would use Moscow's frozen central bank reserves.

"My concern is that a lot of very well-intentioned proposals get a lot of momentum because they accord with our fundamental notions of justice and fairness, but don't adequately consider the legal frameworks involved. And those legal frameworks aren't there just to be obstacles. They are there to maintain the stability of the international financial system," she said.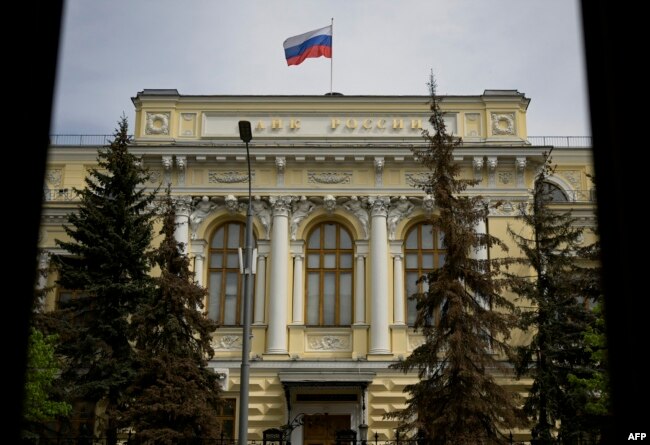 Western and international law protect a foreign government's central bank reserves from confiscation with few if any exceptions, Keitner said. A seizure of Russia's currency reserves by the United States would mark a passage into uncharted waters and could trigger concerns among central banks around the world about the immunity of their own dollar reserves. A drop in demand for dollars by global central banks could weaken the currency and drive borrowing costs up, hurting the U.S. economy

Foreign currency reserves – which can be in the form of bank deposits or low-risk government securities — play a crucial role in supporting a nation's monetary system and exchange rate. Russia's central bank regularly steps in to stabilize its currency by selling dollars and euros from its reserve to buy rubles. Large central bank reserves also give investors confidence that a nation can meet its foreign debt obligations.

New legislation could potentially get around domestic legal constraints preventing the seizure of Russia's foreign currency reserves, but would still leave the United States and Europe exposed to potential consequences under international law — though there is disagreement over this issue.

Philip Zelikow, a legal scholar who served as State Department counselor during President George W. Bush's second term, has argued that Russia has violated international law by invading Ukraine, pointing to UN General Assembly and International Court of Justice condemnation of Moscow's actions. As such the United States and its allies have the right to take countermeasures — such as seizing its foreign currency reserves — to bring Russia into compliance with its international obligations.

However, others contend that the General Assembly is not the UN's top authority. Furthermore, they argue any countermeasures must be reversible and that spending the currency reserves would violate that condition.

Risch's October bill argued along Zelikow's lines, stating that "the extreme illegal actions taken by the Russian Federation present a unique situation, justifying" the seizure of its sovereign assets by the United States and other countries.
Risch has not been able to get Whitehouse to co-sponsor a follow-up bill this year amid pressure from the Biden administration, sources in Congress and lobbyists told RFE/RL, speaking on condition of anonymity due to the sensitivity of the subject.
Democrats in the Senate requested the opinion of the Justice Department on the matter, the sources said. Whitehouse's office did not respond to an RFE/RL request for comment.

Legal Constraints

The Biden administration is seeking to use the blocked central bank reserves as a bargaining tool in potential future negotiations to end the war in Ukraine, people familiar with the matter said. Meanwhile, the Treasury Department is concerned about the impact such a move would have on the dollar as a reserve currency.

Keitner said confiscating the Russian assets could undermine Washington's goal of preserving the post-World War II global order it helped cobble together and which it says it is defending by supporting Ukraine against Russia's invasion.

"If the United States is going to champion a rules-based international order, I think it's very appropriate that [the Biden administration] has been acting cautiously in trying to forge new ground in seizing assets," she said.
The International Economic Emergency Powers Act (IEEPA), a U.S. law adopted in 1977, gives the president the power to freeze foreign assets, including the central bank reserves of a foreign country but doesn't allow confiscation unless the United States is attacked by that country or its citizens.
The Foreign Sovereign Immunities Act (FSIA) of 1976 protects foreign central bank reserves held in the United States from seizure by courts to satisfy outstanding legal judgments, though there have been rare exceptions. FSIA could thus prevent Ukraine from getting its hands on Russia's central bank reserves in the United States even if it were awarded compensation by international courts.
Any U.S. bill that attempts to get around IEEPA and FSIA would face "serious constitutional objections," Paul Stephan, a University of Virginia law professor who served as counselor on international law at the U.S. State Department, wrote in an April 2022 post.
Even if Congress were to craft a bill that could withstand the scrutiny of constitutional law, international law would still be an obstacle, Stephan wrote. The U.S. taxpayer could eventually end up compensating Russia for seized central bank assets, he warned.
In Europe
The EU is studying the possibility of temporarily investing the Russian central bank reserves it holds and transferring the income generated from them to support Ukraine as a way such domestic and international legal constraints, according to a nonpublic Council of the EU discussion paper published in March and reviewed by RFE/RL.
The EU may hold as much as 200 billion euros ($218 billion) of Russian reserves, mainly in cash.
The option of investing the cash portion in low-risk EU sovereign bonds and bills presents "fewer legal issues," according to the discussion paper, but would generate just a few billion euros a year in income, a relatively small amount compared to the tens of billions Ukraine needs annually from outside sources.
Proponents of seizure on both sides of the Atlantic say the United States, the EU, and other nations that hold Russian central bank reserves need to act in unison to minimize any repercussions to their own image as a safe place to park central bank reserves.

However, Summers, the former U.S. Treasury secretary, told the Atlantic Council conference that he thought the threat to the dollar as a reserve currency was overstated.

He also said that the West should award the Russian reserves to other countries affected by the war to build greater international support for the controversial action. Russia's invasion drove up global grain prices, hurting poorer nations in the Middle East and Africa.

Robert Zoellick, a former World Bank president and U.S. Trade Representative who has also served as counselor to the Treasury secretary, said the United States should seize the Russian central bank reserves now to help stabilize Ukraine's economy and undermine Moscow's war effort.

Russia has been targeting Ukrainian civilian infrastructure, such as power plants, in attacks seen as an effort to break Ukraine's economy and trigger a humanitarian disaster that would force Kyiv to negotiate.

The Russians "understand this is partly economic warfare," said Zoellick. Using Russia's central bank reserve funds "would send a signal to them that they won't be able to kill Ukraine economically."

While the Biden administration may be planning to use the reserves as a negotiating chip, Zoellick told RFE/RL he doubts Congress would agree to return the full amount held in the United States to Russia "under any circumstances."

"Think of the issue politically: The US allocates almost $100 billion with more to come to help Ukraine defend itself and survive economically — and then agrees to return frozen billions to Russia?"
RFE/RL Europe Editor Rikard Jozwiak contributed to this report.