A variety of Lexus models on display to meet the needs of diverse customers and regions
World premiere of the all-new LM, crafted as a flagship MPV
Four concept models based on the theme of a seamless harmony between cars and the natural environment
Three concept models that embody the brand's commitment to the thrill of the automobile, whatever the drivetrain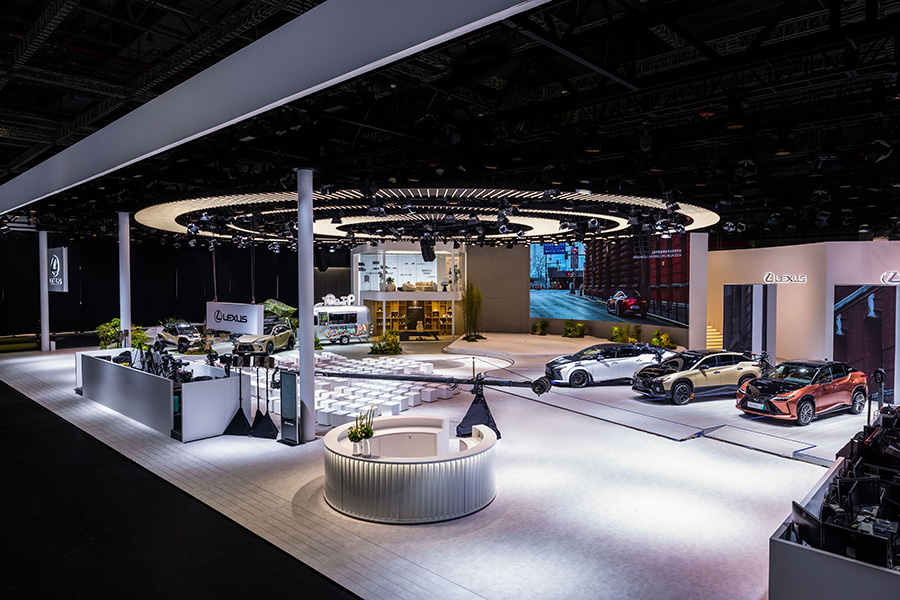 Lexus at Auto Shanghai
Lexus will exhibit at Auto Shanghai 2023 to be held at the National Exhibition and Convention Center in Shanghai, China for 10 days from Tuesday April 18 to Thursday 27, 2023.
In addition to the world premiere of the new "LM," the exhibition will feature a number of concept models featuring various automotive lifestyles that meet the needs of diverse customers with a focus on the age of electrification, all aiming to achieve a carbon-neutral society.
Concept models showcasing the added pleasure a car can bring to outdoor lifestyles
Based on the brand's desire to deliver outdoor experiences that help people understand, enjoy, and protect nature, Lexus will further the "OVERTRAIL*1 PROJECT" to provide a variety of outdoor experiences centering around the joy of car ownership, while still living in harmony with the great outdoors. In addition to the world premiere of the RZ OUTDOOR CONCEPT based on the RZ 450e, the first dedicated battery EV model from Lexus to go on sale in 2023, the RX Outdoor Concept and ROV*2 CONCEPT 2 will be exhibited in a camping setting, along with the NX.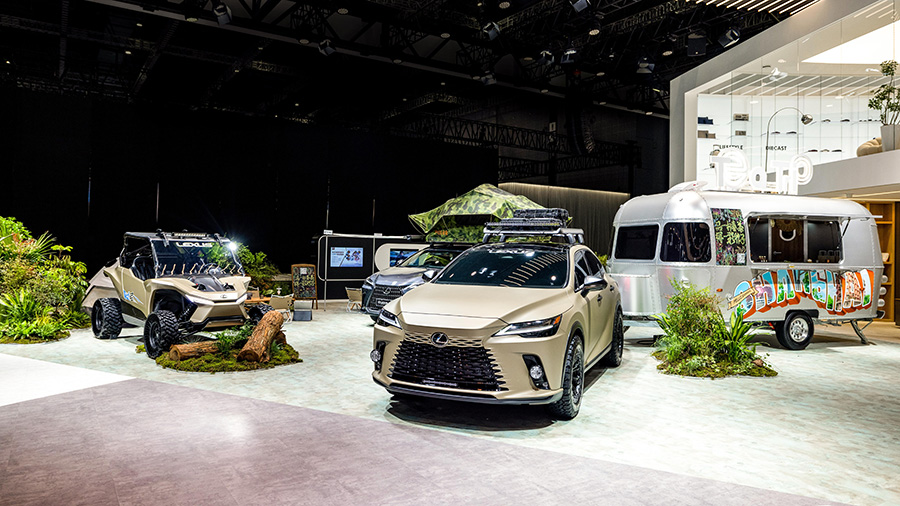 Lexus at Auto Shanghai
Concept models embodying the joy of BEV performance and customization
With a focus on electrification, the "RZ SPORT CONCEPT" is on display to demonstrate the joy of customization as well as the unique driving performance of a battery EV, while the "Lexus Electrified Sport", a high-performance battery EV, symbolizes the future of Lexus BEVs. Lexus is committed to maintaining its focus on pure car making, even for BEVs , and will offer a wide variety of ways for customers to enjoy their cars.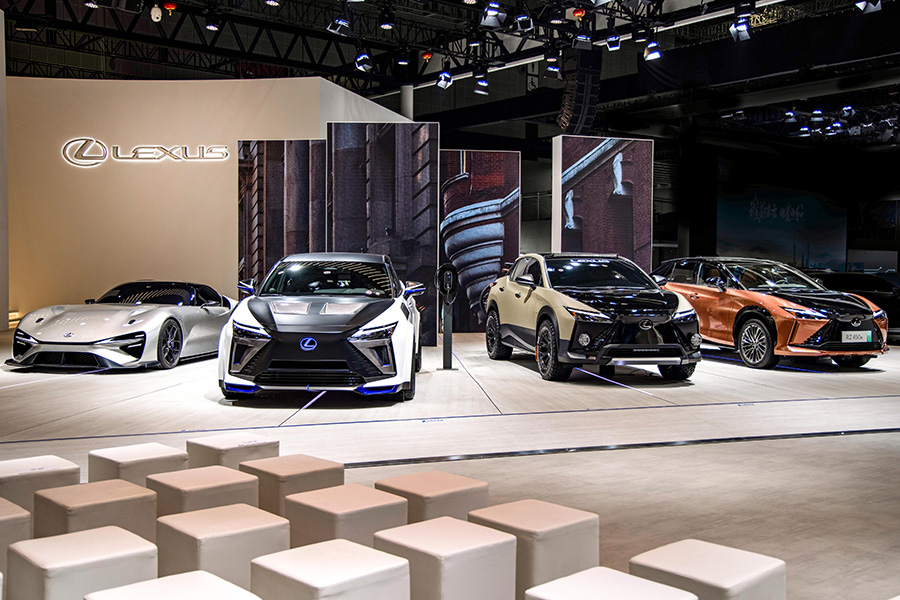 Lexus at Auto Shanghai
Lexus International President Takashi Watanabe Shanghai Motor Show Speech (excerpt)
"We will continue our commitment to car making in the age of BEVs, focusing on strong vehicle fundamentals and further enhancing the Lexus Driving Signature and design underpinned by electrification technology. This means doubling down on our efforts to create cars where the moment you lay eyes on them, take a seat, or start driving, you know it's a Lexus. On the other hand, as BEVs continue to spread globally, it is important to consider various regional infrastructures, energy environments, and vehicle usage patterns around the world, and to provide a wide range of options for reducing CO2 emissions, such as BEVs, PHEVs, HEVs, and hydrogen-engine vehicles. At Lexus, our goal is to enrich our customers' lifestyles together with their cars."
Main features of the exhibited models
RZ OUTDOOR CONCEPT
Base vehicle
Specifications
Dimensions (Compared to base vehicle) Overall length 4,830 (+25) mm x Overall width 1,895 (+0) mm x Overall height 1,655 (+20) mm
Output (Front / Rear) 150 kW / 80 kW
Drivetrain DIRECT4
Body Color
Front
Custom design skid plate
LED light
KC light (Bumper side)
Side
Black stainless steel window moldings
Matte black door handles
Matte Black arch moldings
Rocker Chip-resistant black paint
Mud guard Exclusive paint
265/60R18 All-terrain tires
Rear
Custom design skid plate
Tow hitch
Roof
LED light bar
Roof Carrier for Bicycles
RX OUTDOOR CONCEPT
Base vehicle
Specifications
Dimensions (Compared to base vehicle) Overall length 4,920 (+30) mm x Overall width 1,930 (+10) mm x Overall height 1,720 (+20) mm
Powertrain 2.5L inline 4-cylinder plug-in hybrid system
Drivetrain E-Four (electric four-wheel drive system)
Body color
Front
Semi-gloss black painted grille
LED light
Chip-resistant black painted lower bumper
KC light (Bumper side)
Side
Black stainless steel window moldings
Matte black door handle
Matte black arch molding
Rocker Chip-resistant black paint
Mudguard
265/60R18 All-terrain tires
Rear
Tow hitch
Chip-resistant black painted lower bumper
Roof
ROV CONCEPT 2
Specifications
Dimensions Overall length 3,120 mm x Overall width 1,725 mm x Overall height 1,800 mm
Powertrain 1.0L inline 3-cylinder DOHC 4-valve
Fuel type Compressed gaseous hydrogen
Transmission Sequential paddle shift + reverse
Drivetrain Selectable 2WD & 4WD with diff lock
Seating 2 passengers
Body color
Exterior
Aluminum skid plate
Chip-resistant black painted lower bumper / rocker panel
Lexus Signature lamps (front / rear)
Roof light bar
Exclusive suspension (Adjustable Damping force)
Air-less tire
Interior
Leather-wrapped steering wheel
Leather-wrapped assist grip (passenger seat)
Exclusive shift knob (Machined aluminum)
Suspension seats
Four-point seat belt
RZ SPORT CONCEPT (Produced by Masahiro Sasaki)
Base vehicle
Specifications
Dimensions (Compared to base vehicle) Overall length 4,883 (+78) mm x Overall width 1,985 (+90) mm x Overall height 1,600 (-35) mm
Torque N/A
Output 150 kw for both front and rear
Drivetrain DIRECT4
Body color
Exterior
Exclusive aero parts (Front and rear lower bumper/Side rocker aero, Front and hood aero ducts, Rear twin carbon spoiler, Over fenders)
Interior
Tires & Wheels
295/35R21 tires 21-inch/11J wheels (Volk Racing GT090)
Suspension